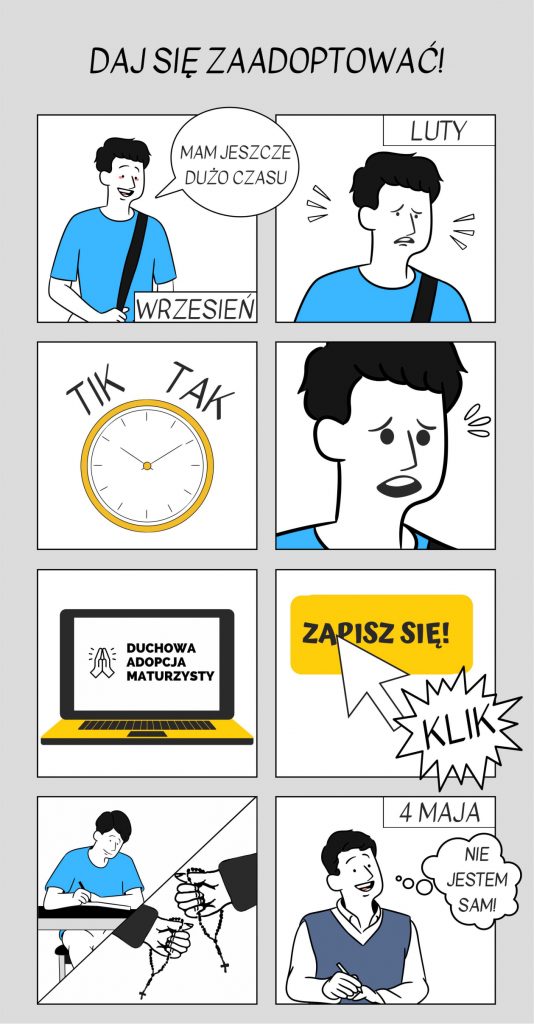 Duchowa Adopcja Maturzysty
Maturzysto, daj się zaadoptować!
Na 100 dni przed maturą rusza Duchowa Adopcja Maturzysty! Zakon Pijarów będzie wspierał swoją modlitwą wszystkich, którzy w maju przystąpią do egzaminów.
– Ten czas dla maturzystów, już po studniówkach, to intensywny czas przygotowań i nauki, dlatego chcemy już na tym etapie okazać im modlitewne wsparcie – mówi o. Radosław Boboń SP, koordynator Duchowej Adopcji Maturzysty. 
Wystarczy wejść na stronę maturzysci.pijarzy.pl, otworzyć zakładkę "Zapisz się", zostawić swoje dane, a automatycznie pobierze się modlitwa, która jest potwierdzeniem udziału w akcji. Świadectwa maturzystów, którzy wzięli udział w Duchowej Adopcji Maturzysty potwierdzają, jak ważne jest to duchowe wsparcie podczas egzaminów.
Do tej pory udział w akcji wzięło blisko 19 000 uczniów z całej Polski. Za tegorocznych maturzystów będą modlili się ojcowie, bracia, klerycy Zakonu Pijarów oraz ci wszyscy, którzy zechcą dołączyć do tej inicjatywy. Dołączyć może każdy, wchodząc na stronę maturzysci.pijarzy.pl w zakładkę "Zapisz się" i wybrać "Zaadoptuj maturzystę". W modlitewną sztafetę włączają się od lat uczniowie szkół pijarskich, ich rodziny, przyjaciele, parafianie, członkowie Bractwa Szkół Pobożnych i wielu innych. Akcja rozpocznie się 23 stycznia Mszą Świętą w Szkole Podstawowej Zakonu Pijarów w Krakowie.